Saturday 10th March – Marigold + Chaos Physique LIVE
Chaos Physique + the Marigold Live @ Cantina Mediterraneo (Frosinone)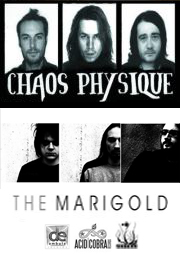 The band will presents the new EP "Let The Sun" in a special concert with Chaos Physique!!!
Let the Sun MAXI E.P. DIGITAL out 8th March 2012 on Acid Cobra Digital…
stay tuned for next news! C'est-à-dire qu'avant de lignes actives à jouer et va faire tourner les rouleaux vont tourner. En appuyant sur la touche « start » par la somme de commencer le nombre de lignes actives à jouer avec des paramètres prédéterminés à jouer avec des paramètres initiales . les meilleurs casino en ligne en Suisse e mode de machines à jouer et le nombre de jeu automatique est une option additionnelle qui permet aux clients des mises custom essay writing , si vous voyez que le nombre de jeu , cependant, pas changer vos paramètres initiales avant que en sélectionnant la mise, le participant règle son appareil .
Tags: Amaury Cambuzat, Campitelli Marco, Cantina Mediterraneo, ChaosPhysique, DeAmbula Records, marigold