Ottobre 21st, 2014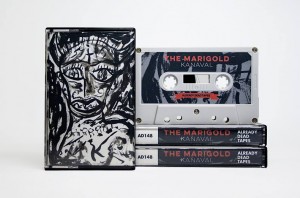 The Marigold's "KANAVAL" is now available on limitede edition cassette!
The Marigold
KANAVAL
Already Dead Tapes & Records
KANAVAL is the third official release of THE MARIGOLD, a well-loved Italian band of shoegazers who play an original mix of noise and rock,  melted with an incredible experimental attitude, ideally between Swans and My Bloody Valentine.
The band, leaded by  Marco Campitelli, in this last release puts together a bunch of friends like ULAN BATOR's leader Amaury Cambuzat (also playing with great FAUST), folk singer Gioele Valenti aka HERSELF, and a great sound engineer, Toshi Kasai (active with MELVINS), who  – beside having played on – has produced, mixed and mastered the work at Sound Of Sirens, Sun Valley, CA.
Played by
Marco Campitelli (voice, gtrs, synth, organ, bass pedal)
Stefano Micolucci (basses, add. drums)
Giovanni Lanci (drums & percussions)
Amaury Cambuzat (gtr, lapsteel)
Gioele Valenti (horns, piano)
Toshi Kasai (hog noise, synth, mandolin)
Produced, Mixed, Masterized by Toshi Kasai (Melvins, Altamont, Tool, Helmet, Big Business, Red Sparowes)
Stream the entire album and order the cassette here: https://alreadydeadtapes.bandcamp.com/album/ad148-the-marigold-kanaval